1960 U.S. Olympic Gold Medal Four - Lake Washington(J. Sayre/R. Wailes/T. Nash/A. Ayrault)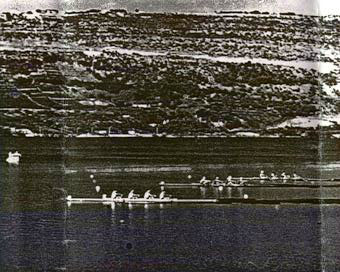 Coming from behind, the LWRC Straight Four takes the gold on Lake Albano in Rome, 1960... from Stan Pocock's book, "Way Enough!" in which Stan has incuded several pages of recollections about the famous crew and their race.
Short Video of Race
More about Ted Nash
Rusty Wailes died while rowing on Lake Washington 10/11/02 - Obit in Seattle Times 10/26/02.
Thanks to the efforts of Ted Shoulberg the Lake Washington Rowing Club gave us two "rowable" wooden shells - the Husky Challenger and the Hoh.

The Hoh was built by Stan Pocock, who also coached the Lake Washington crew to Olympic gold in 1960. Their success helped establish the then three year old Lake Washington Rowing Club. The Husky Challenger was a top line eight built in the 1940's by George Pocock and won several national rowing events judging from the chevrons on the bow.

Susan Kinne, LWRC member and rigger, was instrumental in getting the club to donate the shells to the WBF after Ted Shoulberg approached her at the Everett head race this Fall. Hugh Lade, LWRC organizer of this year's Head of the Lake Race, was also helpful. Ultimately, of course, the Board of the LWRC voted to donate the shells to the WBF. Lorna told them (Ted and Susan) that the shells had to be "rowable" so LWRC members rigged and rowed and repaired the shells to make sure they were. Beverly Sheridan is President of the LWRC. Our heartfelt thanks to all of them.

The Hoh is a "straight four" (without coxswain) that can also be rigged as a "quad" for sculling. According to Joe Sweeney from the Penn Athletic Club, "In the 1960 Olympics in Rome the US four without from Lake Washington with Art Ayrault, Ted Nash, John Sayer and Rich Wailes, won the straight four, coming from behind at the first 500 to win in 6:26 over Italy 6:28 and Russia 6:29."
---
10/22/02 - Note from Ted Shoulberg:
I talked to Ted Nash this morning and he has a photo of the race but it isin a frame and he will have to remove it. He gave me his home phone* and told me to leave all the particulars on his tape. He also said thathe has a movie of the race that he would like to get made into a video(another project). I called the River and Rowing Museum this morning therowing curator will not be in until next tuesday. Thank you for looking upthe museum on the web.