Pocock Classic Cedar Singles
News & Comment
9/12/10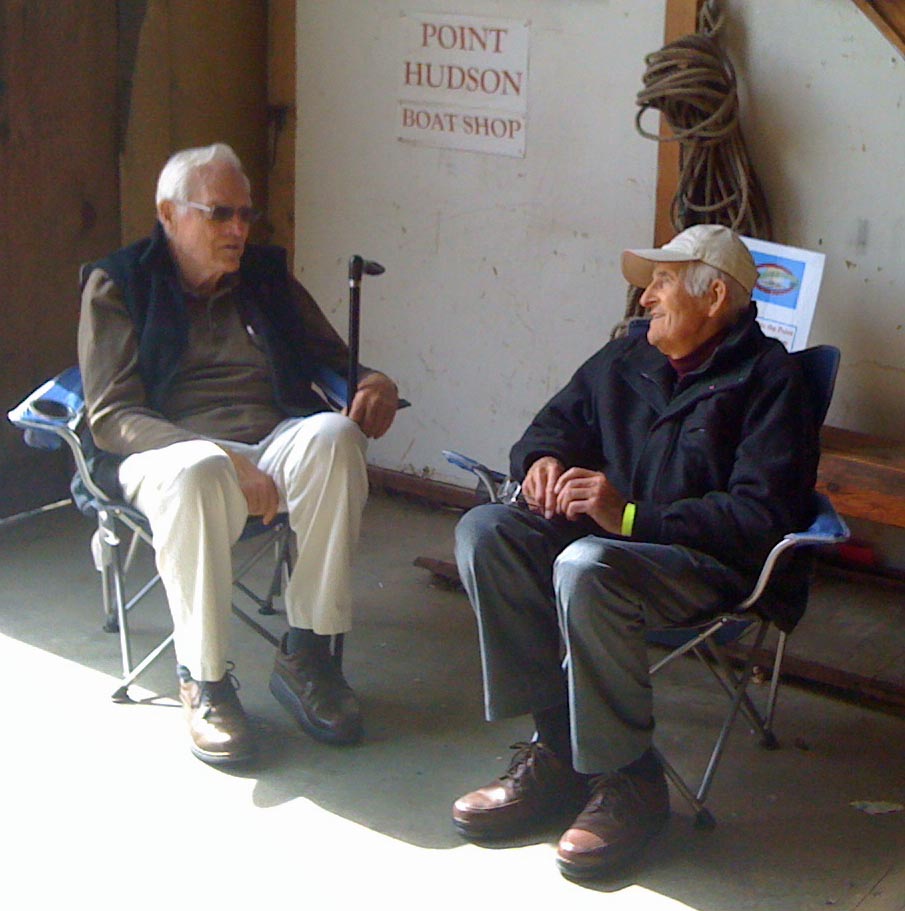 Stan & Frank in Steve's shop during WBF, 2010

---
Classic Cedar Single Race Boat
"It is the best boat I have ever rowed."
August 16, 2010

Two of my friends and fellow Willamette Rowing Club members rowed my Pocock Cedar Classic, Better Angel, this summer. I'll document their laudatory comments in articles soon to be submitted for posting on the Pocock Classic website. For now, I'll offer a couple of teasers.


Don Costello rowing Better Angel. Photo by Dianne Roberts

Stu Brown and Better Angel, rowing against excellent competition, won the silver medal in the G men's single at Northwest Masters Championships in very fast time, considering the adverse water and wind conditions; and Tiff Wood, since the 1970's one of the world's pre-eminent rowers and scullers, said about Better Angel after pulling it to the dock, "I like it. I like it a lot!"

A recent member of the U.S. National Rowing Team who is a young friend of mine will soon row this boat in California. A two-time Olympic gold medalist, he has never rowed a wooden boat. Is he in for a treat! The Pocock Classic Cedar Single is far more than a pretty face. It rows beautifully and it is fast. It is the best boat I have ever rowed.

Don Costello

And that's high praise from a rower who rowed at Cal Berkeley, coached at U of Oregon, founded the rowing program at Lewis and Clark and is currently a competitive masters rower. - Ed.
---
Oscar Peterson

Here is a picture of Oscar Peterson (middle) taken in the Hudson Boat shop in 2007. Oscar worked in Forks and personally selected and milled the old growth cedar for George Pocock years ago. Steve C. has some of those cedar cants.

Oscar is a friend of mine and is great guy. He and I came to PT a couple years ago for him to meet Steve and see what Steve was doing.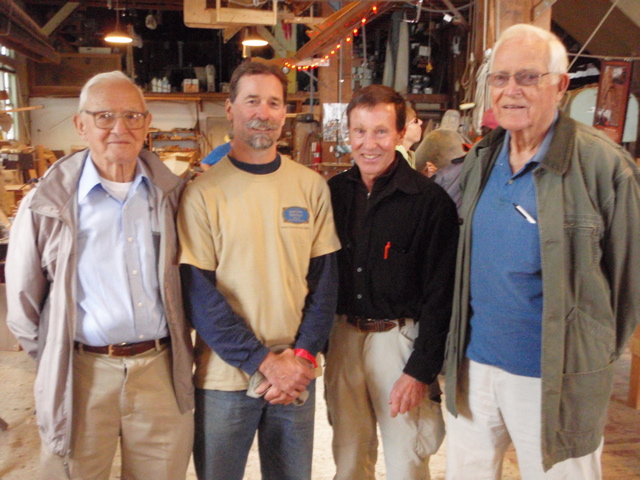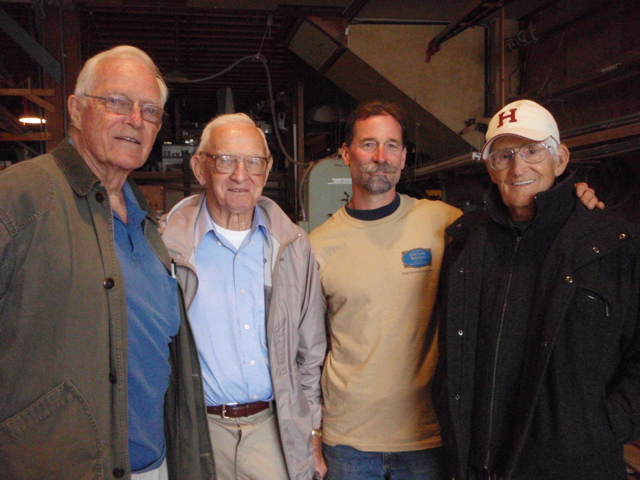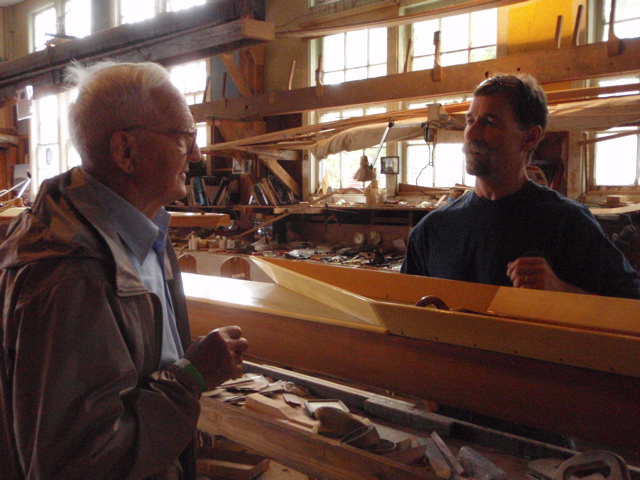 Oscar Peterson, Steve Chapin, Sam Baker, Stan Pocock & Frank Cunningham, 2010

If you go to the book store and look for the following books, you will see Oscar:

"Gods and Goblins" by Smitty Parratt. Oscar is on the cover.... a picture of him on his horse on the High Divide after he just returned home from WWII.

"High Divide" by Gary and Glynda Peterson, Oscars children. Story about his mother, Mini Peterson, a pioneer packer in the Olympics.

Sam

Current News
News 7/20/10
News 10/28/09
News 3/5/09
News 4/16/08
News 10/10/07
If you have news, pictures or a comment, click here
Pocock Classic Cedar Singles
Copyright 2005 - 2010 Wooden Boat Foundation
All rights reserved.
webmaster