Selected Links
Archive Index
Wooden Shells
Parts List
History
Refinishing
Who Built It
George on Rowing

---
"We try to give them shells that will raise their spirit a little above their competitors'."
---
George Pocock's intimacy with the material properties of wood, knowledge of how it must interact with a crew and poetic nature made the Pocock name legendary.
Nearly a century later, we continue to pursue the highest standard of excellence. Diligence, science and art come together in the sometimes invisible nuances that make Pocock boats unique.
---
The Artisan at Work: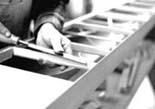 Bob Brunswick
Celebrating 50 Years of Craftsmanship
CLASSIC CEDAR SINGLES


Pocock's Cedar Singles are constructed in the traditional fashion from carefully selected wood. The hull is unique in that the skin is made from a single steam bent plank of 3/32" thick Western Red Cedar. The planks were purchased in the 1970's and sawn from trees 600 to 800 years old. The fineness of the grain, often one hundred lines to the inch, was rare even in the 1950's. These materials, combined with 75 years of expertise, result in a finely crafted single scull of rare beauty.
Standard Single
Classic competition single: fine bow section with maximum beam midship. Suitable for the widest range of rowing conditions and body weights.
| | | | | |
| --- | --- | --- | --- | --- |
| | Capacity | Length | Beam | Weight |
| Midweight | 150-200 lbs | 26'-6" | 12" | 34 lbs |
Teardrop Single
Originally built in large and small versions for the great scullers Joe Burk and Joe Ayngal, these boats carry their greatest beam at the forward cockpit, with relatively deep and narrow stern sections.
| | | | | |
| --- | --- | --- | --- | --- |
| | Max Capacity | Length | Beam | Weight |
| Large | 220 lbs | 26'-6" | 13" | 35 lbs |
| Small | 165 lbs | 26'-6" | 12" | 32 lbs |
| Flyweight | 125 lbs | 24'-0" | 11" | 27 lbs |
Price: $6,850 (all Models)

---

SCULLING OARS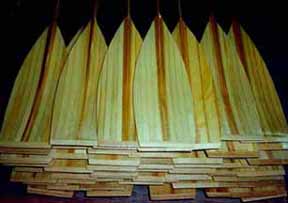 We also have beautifully handcrafted Competition and Club series sculling oars. These unique pieces of work are both beautiful and functional.
The type of wood selected for the sculling oars is chosen for both its quality and its appearance. Club Series oars are Sitka Spruce, and the Competition oars are made from Engleman Spruce with Australian Ironbark along the back of the loom. The oar loom for both Competition and Club Series oars consists of three bonded pieces; a single plank is split to make "book ended" sides, and another piece is cut for the center. This superior design prevents twisting or warping as the wood expands and contracts. The center and side pieces of the Competition oars are milled to form a bi-tubular loom, thus reducing the weight of the sculls while maintaining their stiffness. The darker Australian Ironbark is an extremely dense wood that provides extra stiffness along the back of the loom.
Due to the unavailability of the wood and artisans, our current stock will be the last wood boats and oars produced by us.
Prices:

| | |
| --- | --- |
| Competition Series: Engleman Spruce w/Australian Ironbark, 9'-7" or 9'-10" | $640 / pair |
| Club Series: Sitka Spruce, 9'-7" or 9'-10" | $425 / pair |